For cat lovers with discerning taste, choosing the purrfect gift goes beyond the ordinary. If you or someone you know takes pride in a refined sense of style and sophistication, you'll appreciate the fusion of artistry and feline adoration in our carefully curated list of designer gifts for cat lovers. From elegant cat furniture to tasteful accessories, these items aren't just gift ideas for cat owners; they're a testament to the shared bond between cat lovers and their cherished companions and elevate their experience together. Whether you're looking for gifts for cat owners, cat mom presents, or things to get cat lovers, this list will be sure to wow your special person with a world where luxury meets cats. 
1. For the Cat Lover with a Home Bar
The "Kitty" stackable glasses are the perfect presents for cat lovers who appreciate both functionality and aesthetics. Crafted from gorgeous soda-lime glass, these aren't ordinary glassware; they're a statement piece in themselves. When stacked together they form the shape of a charming standing cat, making them a delightful addition to any cat lover's home decor. The best part is that when separated, these glasses are equally stunning and functional. Their striking design and high-quality construction ensure that you won't want to hide them away in the cupboard. "Kitty" is not just a set of glasses; it's a versatile and eye-catching decor piece that adds a touch of whimsy to any cat home. This is a great xmas gift for cat lovers, and on of the most unique gifts for cat lovers we've seen.
2. For the Stylish Cat Lover
The Catenary's Halo Cat Bowls are the perfect gifts for cat owners who appreciate both style and practicality. Its elegant design, inspired by radiant halos, transforms mealtime into a sophisticated affair. Beyond its aesthetic appeal, these bowls are incredibly functional, reducing vomiting, improving digestion, and preventing whisker fatigue. We think this is one of the best gifts for cat owners as many owners can always use an upgrade to their pet's dining experience or add an extra set of stylish bowls to their collection. These also make great cat and owner gifts, or presents for cat owners with a new kitten as well, especially as cat mom presents as they are designed with both feline and owner in mind, making it a delightful addition to any cat-loving household.
3. For the Artistic Cat Lover
The PyroPet Kisa Cat Candles combine artistic beauty with a captivating experience. This sculptural cat-shaped candle looks great as standalone decor before being burned, but what sets it apart is the thrilling surprise it conceals. As it burns, it gradually reveals a grinning metallic skeleton with fiery eyes, creating a cool and unique transformation. This candle makes for perfect cat presents for Christmas, or cat presents for women as they provide a soothing ambiance during the holiday season, or can be unused as home decor. 
4. For the Cat Love that Loves Color
The Cat Haus Carousel cat scratcher is a burst of artistic vibrancy that injects color and flair into any home. Handmade with care in San Francisco, this unique cat tree is a visual delight, offering a whimsical blend of fun and functionality. Available in a range of captivating patchwork colors it's a masterpiece that adds a pop of life into cat homes. This splurge-worthy piece is a work of art that doubles as a cat's haven, and their one-of-a-kind appearance make them unique cat gifts for cat lovers or owners.
5. For the Cat Lover that Loves Art & Photography
The book "Walter Chandoha: Cats - Photographs 1942–2018" is a timeless treasure for design-minded individuals. Much like other TASCHEN publications, this hardcover makes for a wonderful coffee table book. It celebrates the beauty and charm of cats through Walter Chandoha's incredible photographs and pays homage to a remarkable photographer who dedicated his life to capturing these mesmerizing creatures. This book is a true gem or cat lovers and photography enthusiasts alike, we would recommend it for anyone looking cat present ideas.
6. For the Pet Pampering Cat Lover
OUAI known for their excellence in human haircare brings the same level of care and expertise to their pet shampoo. This gentle yet effective formula cleanses and hydrates, leaving your pet's coat shiny, soft, and smelling divine. We think this is a wonderful cat gift for women or as cat mom gifts who appreciate the brand, and you can pair the pet shampoo with a human hair product to make for great cat and owner gifts. It's a wonderful way to pamper both the fur bébé and the special cat lover in your life.
7. For the Urban Cat Lover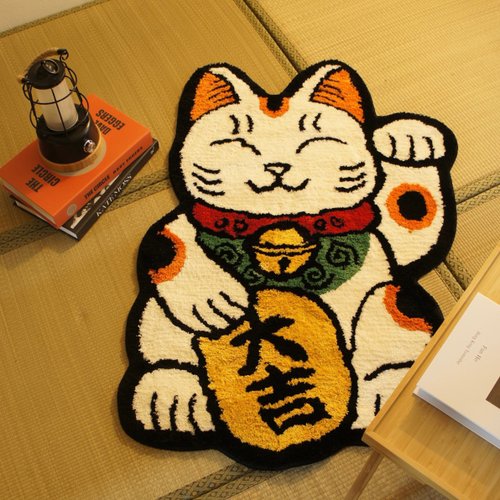 Raw Emotions New Year Lucky Cat Rug exudes undeniable charm that makes them cool gifts for cat lovers while being cute as well. There is a unique fusion of street fashion and feline affection, striking a chord with those who appreciate a touch of urban edge in their decor. Popular among fashion enthusiasts, it's no surprise they're available on Hypebae and Hypebeast. This rug is more than just an accent piece- it's a statement of style and love for cats. We would recommend considering this if you're looking for unique gifts for cat lovers!
8. For the Modern Cat Lover's Aesthetic Home
The cat cave by Catenary named Moon, is a gift that seamlessly blends into any home while simultaneously elevating its aesthetic with its luxurious bouclé appearance, reminiscent of the trendy ball cushions. At first glance, it disguises itself as a simple cat cave, providing a cozy retreat for your feline friend but it also enhances the overall ambiance any room. This cat cave is both a functional pet accessory and decorative statement piece. Its design captures the essence of modern luxury, making it a perfect gift for those who appreciate both style and comfort, ensuring that both your home and your pet's needs are beautifully catered to. Given the snug and cozy effects it can bring to a cat, we think this is a great Xmas gift for cat parents!
9. For the Organized Cat Lover
The 2024 Cat Calendar is a cat-shaped calendar part of the MoMA Design Store's collection. With its 3D monthly format, it brings a touch of whimsy to your workspace while keeping you organized throughout the year. Each of the 12 charming cat illustrations adds a unique character to every month, making it a visual treat for cat lovers. Beyond its undeniable cuteness, this calendar is a testament to good design, aligning perfectly with MoMA's commitment to curator-approved and authentic products. With the holidays fast approaching and 2024 around the corner, these are perfect cat presents for Christmas!
10. For the Luxury Cat Lover
The Prada Crystal-studded Satin Pet Collar is the ultimate luxury splurge, designed to impress and spoil the cat lover in your life. While it comes with a hefty price tag, its extravagant design more than justifies the investment. Crafted with meticulous attention to detail, this collar boasts a stunning bandana shape fully studded with crystals, with the iconic Prada logo as the centerpiece. It's the perfect choice cat gift for women, especially those who appreciate the finer things in life and love to be pampered with the best.
In the world of discerning cat lovers, the connection between artistry and feline devotion has never been more beautifully celebrated. Our curated list of the best gifts for cat lovers goes beyond the ordinary, offering a glimpse into a realm where style, sophistication, and the love for our cherished companions converge. Each item is a testament to the shared bond between cat lovers and their pets. Whether you're drawn to artistic beauty, modern aesthetics, pet pampering, or sheer luxury, these gifts elevate the experience of being a cat owner and lover.